The Nilgiris Stakeholders Workshop for LANDSLIPS
On 14th December, LANDSLIP a consortium of nine organisations from UK, Italy and India, in alliance with Keystone Foundation conducted a one-day Stakeholders Workshop at the Keystone Campus. LANDSLIP project (Landslide multi-hazard risk assessment, preparedness and early warning in South Asia integrating meteorology, landscape and society) works towards reducing impacts caused by hydrologically related landslides, while simultaneously building resilience for such landslide-prone areas.  With this aim, a pilot intervention study is being conducted in two areas in India – Darjeeling & East Sikkim Districts and Nilgiris District. Both areas have been subject to landslides in the past and are still considered highly susceptible. With existing data & knowledge provided by Geographical Survey of India (GSI) and Amrita Vishwa Vidyapeetham University, Kerala – organisations that are a part of the LANDSLIP consortium, these pilot study areas were chosen.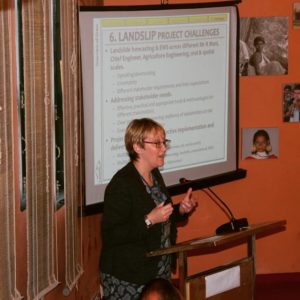 District Collector of Nilgiris, Ms. Innocent Divya (IAS) set the context at the stakeholder workshop by presenting on the role of District Administration in working on mitigation and relief measures. Dr. S Raju – Deputy Director General, GSI Tamil Nadu and Puducherry and MR. R Mani (Chief Engineer) Agriculture Engineering – Govt. of Tamil Nadu were also present at the event.  Apart from them, members of organisations that are a part LANDSLIP consortium were also present. Bruce Malamud (Prof. of Natural &Environmental Hazards – King's College, London), Helen Reeves (Science Director for Engineering Geology – British Geological Survey) stated the synopsis of the project to the entrants. Helen Reeves, speaking at the event said 'The Project aims to involve all possible stakeholders, in order  to obtain positive results'
Nilgiris District is well known for Landslide threats. Several reasons contribute to this calamity- poor land management, deforestation, structures erected without adequate grading of slopes and heavy rainfall etc. The historical landslide inventory analysis of this area clearly reveals that the future landslide occurrence in the district is multifold and can be disastrous. The severe landslides that were witnessed in the district in the past two decades especially 2009, point out that we need to address this issue instantaneously. A substantial increase in population in the hills over the last decade has led to rapid and heavy urbanisation, exerting severe strain on geo- environmental parameters.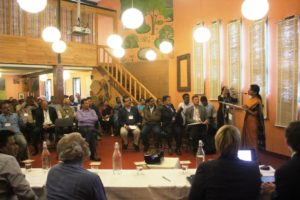 District Collector speaking at the event said 'The current administration has discerned 233 areas as landslide-prone areas in the district'. The administration has also developed digital maps of areas prone to a landslide and have circulated it to sectors dealing with disaster management at the district level. The District Collector also mentioned that evacuation routes and shelter areas  have been established.  She also raised concerns of dealing with existing urban areas where buildings are developed on or close to a landslide-prone area.
An open interactive session with stakeholders took place as the meeting progressed. Communicating landslide hazard through effective early warning systems (EWS) in most vulnerable areas was raised as a concern. The project also looks to work closely with the district administration on improving the existing EWS systems that will prove to be effective in case of emergency. Policy makers and planners should help in increasing awareness on such zones among community leaders and the general public.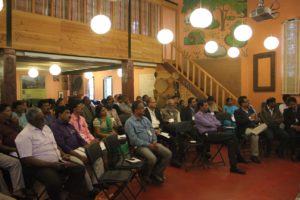 Keystone Foundation's role in this project will be to facilitate and to disseminate information related to landslides among local and indigenous communities residing in vulnerable zones. Radio Kotagiri 90.4 MHz (Community Radio), Seemai Sudhi (a quarterly newspaper for indigenous communities) and Nilgiri Natural History Society (NNHS) are possible avenues through which we can sensitise isolated communities living in remote hill areas as well as the urban cluster residing close to hazard-prone areas. As this is a new subject of interest to Keystone, it will be a learning process for the organisation in terms of how EWS can be efficiently modelled based on real situations and challenges.