Health and Community Wellness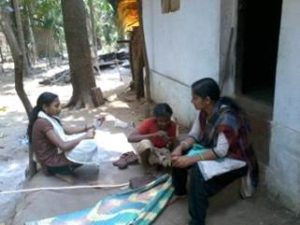 Health and Wellness
It has been more than two decades that Keystone has been involved with ecologically balanced development with various indigenous communities. It is seen that though income levels have increased and conservation efforts are taken, the health and well-being of the indigenous population is deteriorating. The premise of the programme is that the decline of social cohesion and a sense of loss along with the rate of impact of change has an adverse effect on their overall wellbeing. The health program seeks to understand the linkages of the people's health to their culture and environment in a holistic perspective.

Key Activities
Research
Keystone-Cornell Health Survey attempts to establish the baseline on health in select communities like Irula, Alu Kurumba, Cholanaicken, Kattunaicken, Paniyar, Aranadan and Mudhuvan. The health survey aims to identify the communities' perception of illnesses, risk factors, WASH (Water, Sanitation and Hygiene) knowledge and diet diversity. The research will also incorporate an ethnographic perspective to understand the underlying factors that influence health. The research also seeks to comprehend health seeking behaviours and mechanisms of healing from the traditional healers. Special efforts are being taken to document cases related to mental health. Keystone is exploring to build alliances with BANYAN, NIMHANS, NAWA, ASHWINI and other institutions working on health. Public Health systems are also being approached. After the survey results, Keystone will be building a strategy for future work across the Nilgiri Biosphere Reserve.
Access to healthcare
The health project also reaches out to the community with regards to health by providing links to quality healthcare facilities. Community members can avail the health fund maintained by Keystone, which covers a part of their hospital expenditure. Medical emergencies are also covered by the health fund. Individuals with mental health issues are also identified and they are linked to a quality facility or with periodic camps for followup.
Community Wellness
The program identifies and trains health workers from among the community members as a self-sustaining measure to maintain wellbeing. These village wellness or 'nalam' workers are trained not only to recognise signs and symptoms of common ailments, but also their cause, which could be improper or insufficient nutrition, environmental pollution, or physical and/or mental stress. Identifying these causes helps the workers to develop preventive processes that will protect the community. Additionally, the nalam workers will provide a crucial link between the patient and specialized medical care should the need arise.
The research component of this program helps understand culture in relation to health to build a preventive healthcare program and reinforce the protective factors which will build the resilience of the community.
Health monitoring
The health status of the indigenous community in Nilambur was found to be very poor and it required immediate intervention to monitor their health status. Community members were selected as health workers. Monitoring of health status was carried out with a special focus on pregnant women, infants and individuals with chronic illnesses like hypertension, tuberculosis, leprosy, thyroid disorders and diabetes. Health education and awareness classes are held on anemia, leprosy, antenatal and postnatal care, nutrition, hygiene and substance use. This effort is being supported by the Kerala Forest Department and establishes linkages with the public health system.