Introduction
The concept of "keystone" emerges from the nest-building behaviour of some birds in nature. These permanent nest structures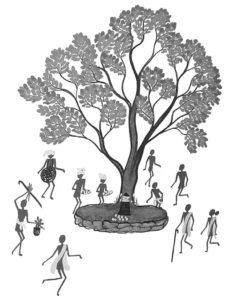 serve as habitat for several life forms. Such "keystone" species become crucial in providing opportunities for other associated beings to grow and evolve. Thus, Keystone Foundation is born out of a simple ecological principle of the interdependence of natural systems.
Keystone Foundation has completed 20 years in the Nilgiris, working with indigenous communities on eco-development initiatives. The Foundation's work has been concentrated in the areas of apiculture, micro-enterprise development, non-timber forest produce, land and water management, revival of traditional agriculture and other issues concerning indigenous communities. After an external impact assessment and a participatory process  amongst staff, this document is born.
Mission
"Our Mission is to enhance the Quality of Life and the Environment with Indigenous Communities using Eco-development Approaches"
Goal
To work on issues of Natural Resources and Rural Development, with Indigenous People in mountainous and adjoining regions, addressing the challenges of conservation, livelihoods and enterprise development, through appropriate – knowledge & action, technologies, socio-economic innovations and institutions.
Expected Outcome
Our work is expected to lead to the following outcomes for which the organization will directly be responsible and accountable:
1. Increasing conservation perspectives and ecologically sound principles in all aspects of our work.
2. Increasing the availability of viable natural resource-based sustainable livelihood options for indigenous people.
3. Village groups and institutions taking greater responsibility for managing programmes.
4. Sustaining traditional and cultural practices through opportunities provided within programmes.
5. Knowledge developed by research and action projects, being owned by stakeholders and put to practice.
6. Indigenous people being in a position to dialogue with decisionmakers.
7. Influencing policy & decision making towards environmental governance.
8. Promoting organic & fair trade principles in market based interventions.
Origins
The beginning was made when four core members of Keystone, set out on a state-wide survey of apiculture in Tamil Nadu, in 1994.  Trudging miles of mountain paths and dusty roads with backpacks, this field survey gave a precious opportunity to look at the situation of 11 indigenous communities across 15 hill ranges in Tamil Nadu.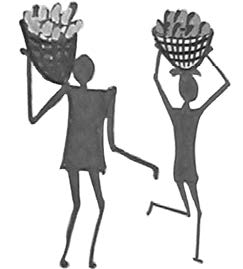 The details of honey hunting techniques, forest vines used, associated traditions and rituals, social systems and economic dependence on such an activity, were a fascinating eye-opener. More importantly, they reflected on changes in land use, dwindling forest cover, introduction of chemical fertilizers and pesticides, and other degradation, posing a growing challenge.  Exploring and addressing adivasi issues of development and a natural resource from a local perspective was the key to our discovering a different approach.
Previous work in honey gathering with the Paliyan adivasi community in the Palni Hills during 1990-1993, suggested that this traditional activity could be an effective entry point to work with indigenous communities centred on natural resources and livelihoods.  The survey brought the team to the lower Nilgiris, where a number of hunter-gatherer communities practise honey hunting and subsistence agriculture. A potential area for future work and learning materialised and Nilgiris, as a region, was chosen to begin work.