IUCN WCC 2016 – Community-Based Approaches to Sustainable Use – Reality or Myth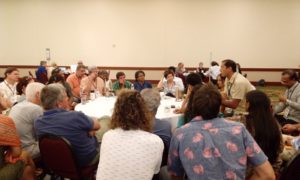 5 September 2016, Hawaii: The IUCN WCC is a place full of inspiration, spirit, friendship, and surprises too. So when the people who I had requested to be part of our panel started to mail me saying that they couldn't make it because of other commitments, I walked in prepared for anything. By 11 am  Table No. 10 in Room 311 was already crowded with two rows of chairs and soon a third row was being formed. Rosie Cooney (Chair of SULi) was there to assist me and Prof. Tamara Ticktin and so many of my friends from Hawaii.
The group of young and old who gathered were from Fiji, USA, Poland, Australia, Japan, Bangladesh, French Polynesia, Namibia, Hawaii, Canada, Arctic regions and India. The 30 or more people gathered came from diverse backgrounds ranging from the International Falconry Group, trophy hunters, indigenous and First Nations people, academics, IUCN commission members, NGOs, students, natural resource managers, and so on.
Normally in a Knowledge Cafe, one has a roaming population. I must confess this was one group that refused to move on. It stayed engaged and those who came in hoping to just pass by, stayed too.
So… what did we talk about and what did we agree on and, importantly, what did we disagree on?
How do we define communities: The stakeholders, indigenous communities, or primary producers – Most of them belonged to groups which were the most impoverished and powerless. Words like "crushed", "battered", "screwed", and "defeated" were the most commonly used to describe these people. Yet, we want the weight of conservation and sustainability to rest on them! Table 10 agreed that this weight could be shared if we redefined or expanded the meaning of community and looked at governance and institutional contexts and conditions. We disagreed that they should have lesser access to modernity and not aspire for the same things that were messing up the world anyway.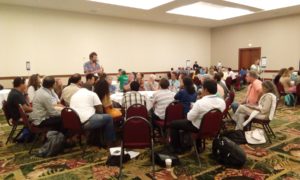 Safeguards and protocols: Traditional ways of handling resources have been documented and they do exist in small pockets. Whether the protocols out there for public consumption have any regard for local knowledge systems is still unclear and is an area of work where more needs to be done. The cost of such protocols and their incentivising was again being borne by the producer level, and could this not be a shared responsibility? It was opined that the extremely wealthy hunter lobby should be at the forefront of conservation too.
Responsibility of ensuring sustainable use: Again, all fingers pointed to the primary users and this we recognised that other stakeholders were not taking responsibility for ensuring sustainable use of resources.
Prioritizing benefits to biodiversity: The nature of sustainability discussions prioritise biodiversity conservation enough, which is what brings us back to the discussion of how much of this is a reality and how much of it is a myth. The discussion and examples from around the world showed that it was indeed not a win-win situation and we recognised that unless the bottom up and bottom down processes acted together we would not be getting very far on this. A more detailed report on the discussions is to follow soon.
The group kept hanging on after the two hours, reluctant to break for lunch. There were unfinished conversations and the need to continue the thoughts from this session was felt deeply. Some wanted to take this idea to the CBD conference at Mexico at the end of the year, some wanted to keep in touch and some would be carrying these discussions into workshops and programs that they were participating in at the Congress. That is the ethos of IUCN Congresses, the conversation never stops and they are all interlinked.
Anita Varghese