IUCN WCC 2016 – High level session with younger and older generation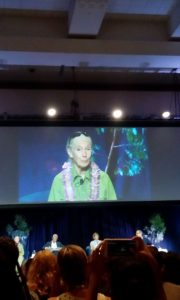 4 September 2016, Hawaii: A packed hall with about 1000 people waited to hear about the aspirations of the young and old for a planet at the crossroads. Representing the young was a filmmaker from the USA, a woman activist from Chad, environmental activist from Peru and a musician and Hollywood star, Alison Sudol. The young spoke of what they do and it was indeed inspiring. What would they like from the world – for the older people to make room and space for them, to give them mentorship (not just from older people), they want to see Nature not as something awesome and out there but something that is a part of their everyday lives and they felt uncomfortable with contradictions and hypocrisy (a Time magazine dedicated to the issue of Climate Change with advertisements showing yatchs that were being offered for vacations).
A star among the older folks was Dame Jane Goodall (her dedication, humility and passion stood out) who got a standing ovation when she came up to talk. Alongside her was a scientist who spent a large part of her time establishing NOAA, Director of the US National Parks Service, Jonathan Jarvis, head of the Canadian Wildlife and Nature Trust, an NGO. The older folks listened to the voices of the young and responded with their thoughts and what they were doing to create space. Director Jarvis reminded us that it was not enough to give space to the young but also needed to empower them. Jane Goodall talked about her work with roots and shoots and how she felt that we are not borrowingthe earth from our children; we are, in fact, stealing it from them.
Watch out for this interesting website and their ways to promote outdoors. http://www.nature-rx.org/
Anita Varghese