IUCN WCC 2016 – Members Assembly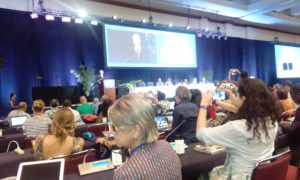 6 September 2016, Hawaii: It was a powerful moment when 100+ country representatives gathered at the Ballroom (A,B, and C – three ballrooms combined) to deliberate on important issues around conservation and the governance of the IUCN. The Presidential address and report of the Director General were detailed. Council members reported on their work. Commission chairs reported. Heroes were awarded. Stalwarts were recognised and awarded for their lifetime work for conservation. Votes were cast on accepting resolutions and reports. There is a power in the room which cannot be expressed, governments, non government organisations, civil society members, academic institutions and international NGOs. Small nations and big sit shoulder to shoulder and debate, discuss and decide to work as a union.
Because of the reorganising of the format of the workshop, we find that we have time for serious discussions on future strategic directions for work. An interesting panel was put together to discuss the action to be taken to change the course of agriculture and reduce negative effects on biodiversity and health and to prevent threats to food security. A plan for action creating alliances who would lead and then the national governments would follow was the need of the hour. Jeffrey Sachs, Alexander Muller and Jason Clay were on the panel.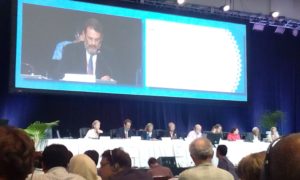 Another panel on the status of the world's oceans talked of the future of ocean conservation. Giants like Sylvia Earle, Pierre Cousteau and Nainoa Thompson were part of the panel. A third panel discussed the need and nature of constituencies that needed to be built for conservation. Other panels discussed issues like green growth, spirituality, indigenous peoples issues, and community based protected areas were. And the assembly goes on … More updates later.
Again, while we sit in the assembly on the ground floor level exhibits and events are going on for students of Hawaii. These are being organised by Google, NASA, US Forest Services, Hawaiian Conservation Alliance etc to inspire ignite young minds. I got a sense of this when I happened to be at a neighbouring table at the food court at Ala Moana. A group of young people were returning from the event and stopping by some food. They couldn't stop talking and they were simply overawed. They were not looking at their cell phones or talking about internet games and I thought to myself, "That is what happens when Nature offers us a chance to stay away from our distractions…"
Anita Varghese