About Keystone Foundation
The concept of Keystone emerges from the nest-building behaviour of some birds in nature. These permanent nest structures serve as habitat for several life forms. Such keystone species become crucial in providing opportunities for other associated beings to grow and evolve. Thus, Keystone Foundation is born out of a simple ecological principle of the interdependence of natural systems.
Keystone Foundation has completed more than 20 years in the Nilgiris, working with indigenous communities on eco-development initiatives. The Foundation's work has been concentrated in the areas of apiculture, micro-enterprise development, non-timber forest produce, land & water management, revival of traditional agriculture and other issues concerning indigenous communities.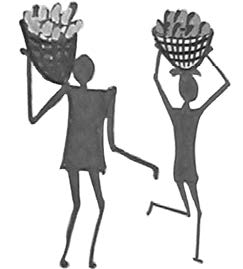 Mission
"Our Mission is to enhance the Quality of Life and the Environment with Indigenous Communities using Eco-development Approaches"
Goal
To work on issues of Natural Resources and Rural Development, with Indigenous People in mountainous and adjoining regions, addressing the challenges of conservation, livelihoods and enterprise development, through appropriate – knowledge & action, technologies, socio-economic innovations and institutions.
Origins
The beginning was made when four core members of Keystone, set out on a state-wide survey of apiculture in Tamil Nadu, in 1994.  Trudging miles of mountain paths and dusty roads with backpacks, this field survey gave a precious opportunity to look at the situation of 11 indigenous communities across 15 hill ranges in Tamil Nadu.
The details of honey hunting techniques, forest vines used, associated traditions and rituals, social systems and economic dependence on such an activity, were a fascinating eye-opener. More importantly, they reflected on changes in land use, dwindling forest cover, introduction of chemical fertilizers and pesticides, and other degradation, posing a growing challenge.  Exploring and addressing adivasi issues of development and a natural resource from a local perspective was the key to our discovering a different approach.
Previous work in honey gathering with the Paliyan adivasi community in the Palni Hills during 1990-1993, suggested that this traditional activity could be an effective entry point to work with indigenous communities centred on natural resources and livelihoods.  The survey brought the team to the lower Nilgiris, where a number of hunter-gatherer communities practise honey hunting and subsistence agriculture. A potential area for future work and learning materialised and Nilgiris, as a region, was chosen to begin work.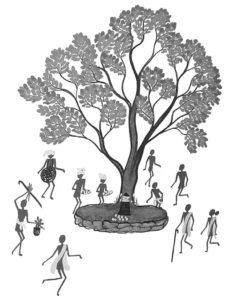 Please go through A Treefall Gap, a document elaborating our mandate. This document was born after an external impact assessment and a participatory process amongst staff.
Expected Outcome
Our work is expected to lead to the following outcomes for which the organization will directly be responsible and accountable:
1. Increasing conservation perspectives and ecologically sound principles in all aspects of our work.
2. Increasing the availability of viable natural resource-based sustainable livelihood options for indigenous people.
3. Village groups and institutions taking greater responsibility for managing programmes.
4. Sustaining traditional and cultural practices through opportunities provided within programmes.
5. Knowledge developed by research and action projects, being owned by stakeholders and put to practice.
6. Indigenous people being in a position to dialogue with decisionmakers.
7. Influencing policy & decision making towards environmental governance.
8. Promoting organic & fair trade principles in market based interventions.
Keystone believes in "small is effective/small is global" and hence, is focused on the Nilgiri Biosphere Reserve, where it is currently working in 135 tribal habitations with an estimated number of 15000 individuals. With the focus initially being on poverty alleviation of the honey hunter community, the first years of Keystone was concerned with the dynamics of honey harvesting and marketing. Since then, Keystone's mission has led it to diversify its programme base to encompass all aspects affecting the wellness of indigenous communities.
Today, Keystone's programme verticals of Conservation, Research, Livelihoods, Appropriate
Technology, and Indigenous Peoples Program along with the Crosscutting Programmes of Pollination, Water Resources, Human-Wildlife Interaction, Health & Community Wellness and Environmental Governance are each geared to directly contribute the overall wellbeing of the individual and community and, by extension, the environment.  The Community Newsletter (Nilgiri Seemai Sudhi) and Community Radio (Radio Kotagiri 90.4 MHz) has been instrumental in bringing the communities closer to each other.
Looking to share the accumulated knowledge of 23 years of working in the field, Keystone regularly conducts external trainings and undertakes consultancies on request. The subjects range from sustainable harvesting and value addition of non-timber forest produce (NTFP), biodiversity assessment and eco-restoration, eco-tourism support, socio-economic surveys  and vocational skills such as carpentry, electrical, and wildlife filmmaking.
Since 2006, Keystone has been given control of pool of funds totalling Rs 10.79 cr by international organisations and entrusted with the task of making grants to grassroots organisations, monitoring progress and evaluating impact. Till date, 35 such projects have been implemented 10 states across India focussing on conservation of natural resources, tribal empowerment, and advocacy for policy change, leadership and governance.  The People and Nature Fund is another such pool of funds that was established in 2016 as a funding facility for grassroots organisations working on issues of environment protection and livelihoods of vulnerable communities in India.
Collaboration with Cornell University, New York gave birth to the Nilgiri Field Learning Centre (NFLC) in 2015. This is an interdisciplinary partnership to explore questions of sustainable environments and livelihoods and pursues engaged research and teaching-learning.
In keeping with the philosophy of being 'keystone', the Foundation has been responsible for conceiving, developing and nurturing three organisations viz, Last Forest Enterprises Pvt. Ltd, Aadhimalai Pazhangudiyinar Producer Company Ltd. and Nilgiri Natural History Society.
Last Forest Enterprises (LFE) was set up with 2010 with the mandate of working towards developing fair trade markets for rural and small enterprises. LFE markets its products online through e-commerce sites as well as through retail outlets known as Green Shops in Kotagiri, Coonoor and Ooty.
Nilgiris Natural History Society (NNHS) was founded in 2010 and works towards a participatory approach to conservation through talks on the biodiversity of the Nilgiri Biosphere Reserve, stakeholder workshops, trails and treks, and reaching out to local schools.
Aadhimalai Pazhangudiyinar Producer Company Ltd (APPCL) was begun as a micro social enterprise and has since grown into a tribal producer company registered in 2013 with over 1600 members, and is managed solely by the indigenous communities.
These organizations work together to increase social cohesion within indigenous communities and strengthen the natural resource production base while protecting biodiversity in the Nilgiris Biosphere Reserve.