TAMILNADU URBAN SANITATION SUPPORT PROGRAMME – WORLD TOILET DAY OBSERVATION 2017
December 13, 2017

Comments are off

Category:News
The World Toilet Day observation at Narasimhanaicken-palayam and Periyanaickenpalayam was held on 17th & 19th of  November 2017. This time the World Toilet Day was celebrated with a theme which is very much in relation to our project goal, which is "wastewater". The major objectives of the observation were to create awareness among the community on the importance of untreated wastewater, to increase recycling and safe reuse, involve youth champions as volunteers in promoting full sanitation value chain and to appreciate and encourage the work of de-sludge operators.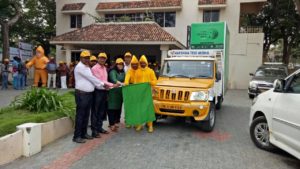 On 17th, the event kick-started with a rally that emphasised the importance of untreated wastewater and to increase recycling and safe reuse through a short movie called "Kakka Man" on a display screen in few selected spots around the Town Panchayat. After the screening, a quiz contest was held for the public viewers relating to the movie and prizes were distributed for those who came up voluntarily to answer the questions. The two Kakka Man artists Mr. Miller and Mr. Shiva Kumar from Keystone, Kotagiri, were the centre of attraction. Their jovial interaction with the community through their performances kept the day more alive and tuned.
Later, in the evening a stage awareness program was held at Narasimhanaickenpalayam Govt. School on promoting the importance of sanitation. Mr.Ravi – Narasimhanaickenpalayam Executive Officer, Mr. Arun – Local Leader, Mrs. Vanaja – Narasimhanaickenpalayam Government School Head Mistress, Mr. Niladiri Chakraborthi – Team leader of City TSU were present at the event. Ms. Elizabeth Prasanna – Social Worker welcomed the gathering with a short note on the importance of observing the World Toilet Day. Stand up comedy, dance and a skit with regard to sanitation was part of the agenda for the evening- to entertain the locals that gathered at the venue.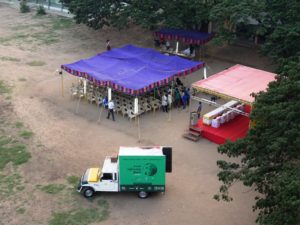 World Toilet Day is an official United Nations international observance day that is celebrated on the 19th of November, every year. It was established by the World Toilet Organisation in 2001. The idea behind this is to inspire action to tackle the global sanitation crisis that remains unresolved. Negligence to this crisis has left detrimental effects on the environment and has also been a major cause of spreading killer diseases among infants and children.
Observing World Toilet Day created a great opportunity for community engagement. Furthermore, it helped to inform the people residing in the intervention areas,  about the upcoming  Fecal Sludge Treatment Plant (FSTP), that will be set up in Periyanaickenpalayam Town panchayat by next year (2018), in the month of January. As a part of this observation, a film that depicts the 'Journey of poo' was produced and will be realised shortly.