They chose the Forest, we chose Society.
August 9, 2017

Comments are off

Category:Blog
Today is International Indigenous Day, a day to which the world pays less attention. The idea behind this is to celebrate the cultures of the Indigenous people all around the world and to recognize their way of life. There are an estimated 370 million indigenous people in the world, living across 90 countries. They make up less than 5 per cent of the world's population. They speak an overwhelming majority of the world's estimated 7,000 languages and represent 5,000 different cultures. Ten thousand years ago almost all humans were hunter gatherers, living in small nomadic groups. Most human populations moved slowly over time through farming or herding, to industrialization and into the modern world. However, few hunter gatherer societies groups that still around are all of indigenous people.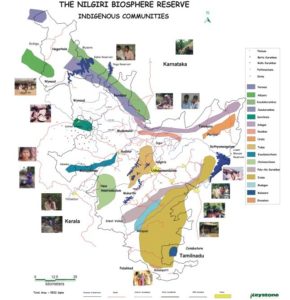 The Todas, Kotas, Kurumbas & Irulas are the established indigenous communities of the Nilgiris. The majority of these communities live in often remote and geographically inaccessible hilly or forested areas, away from the mainstream society. The modern world doesn't lure them. They don't seem to be impressed by urban pressure, crazy commutes and polluted air. Who can blame them? They are happy to live in their green space, unlike city dwellers like us who chop down trees to build a complex and call it progress.
But, the Indigenous communities depend on their sheer strength and traditional knowledge that they perceived over generations by living in the forest. Acute observations have taught these communities how to gather roots and berries, understand animal behaviour and sense changes in climate by using Bio indicators and the phenology of plants. Now, this is what we should be referring to as progress. Their ability to co-exist with nature in harmony rather than commodifying nature for human interest is something that all of us should be learning to master, considering the damage we are causing to the planet.
The Nilgiri indigenous peoples' constant immersion with nature over the years has resulted in a profound attunement to the natural world. Sophisticated hunting, tracking, husbandry and navigation techniques have also been the ingenious responses of the tribal peoples to the challenges of varied and often hostile environments. The development of such observations and skills is a testament to the untapped creativity of humans and their extraordinary ability to adapt while employing the techniques they have learnt over generations.
The present threat is the territorial rights of these indigenous peoples; there is no point of having a law if it fails to meet its objectives. The challenge we now face is the implementation of such laws. It's our duty to ensure and conserve these cultures and help them claim what is theirs. Landlessness gives rise to a host of interrelated problems, including inadequate housing, lack of livelihood options, poor health, hunger, and food insecurity. While migration to urban areas is on the rise, the underlying causes for this movement are not being addressed.
Only through a collective effort from government administration, institutions, organisations and individuals, can there be a substantial change for these forest dwellers. We should stop worrying about fast 4g networks, smart phones and pay less attention to our hyper-connected, mechanized, digital lives. The modern world needs the perspectives and wisdom of indigenous people to learn different ways of thinking and orienting ourselves in the earth. Can our culture return to the mindsets and responsible actions of such sustainable cultures that were self-sufficient and happy or are we going to shuffle between two fractions of government and hope for prosperity. It's high time we learn from these communities and work towards a secure future for them.